Un été musical / A musical summer
Juin. Pour débuter nos rencontres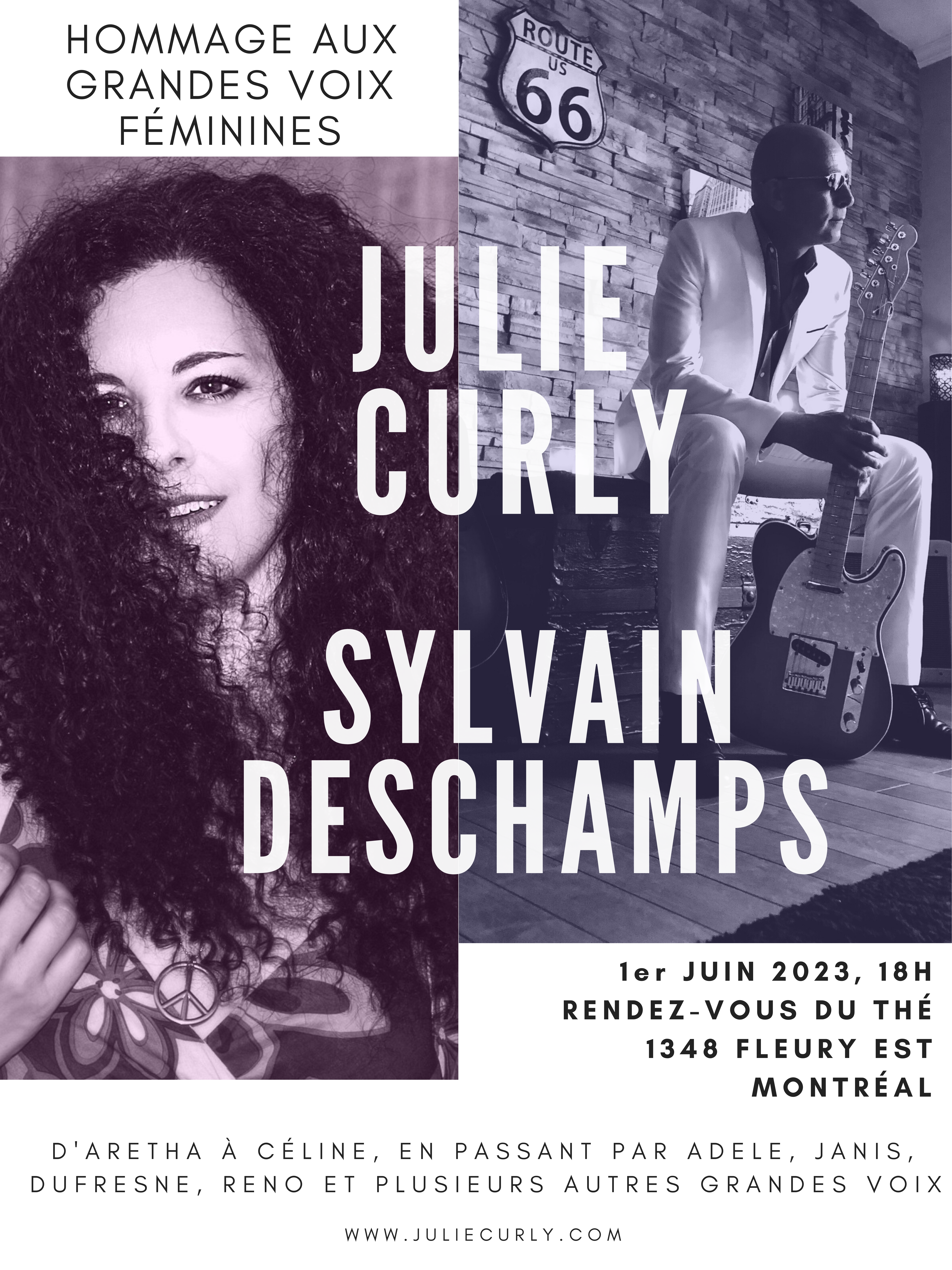 estivales, rendez-vous au Rendez-vous du thé, à Montréal, le 1er juin pour notre souper-spectacle mettant en vedette les grandes voix d'ici et d'ailleurs! Nous avons bien hâte de vous retrouver en ce début d'été!
June. To kick off our musical summer get-togethers, meet at Rendez-vous du thé in Montreal on June 1st for our supper-show featuring great voices from here and abroad! We look forward to seeing you!
De la musique pour réchauffer les coeurs / A little music to warm the heats
Mars. Le printemps est à nos portes et nous vous présentons notre second spectacle depuis le début de l'année, après notre fameux party privé de St-Valentin qui fut un succès! Rendez-vous au Rendez-vous du thé, à Montréal, le 16 mars!
March. Spring is upon us and we present our second show since the beginning of the year, after our famous private Valentine's Day party which was a success! See you at Rendez-vous du thé, in Montreal, on March 16!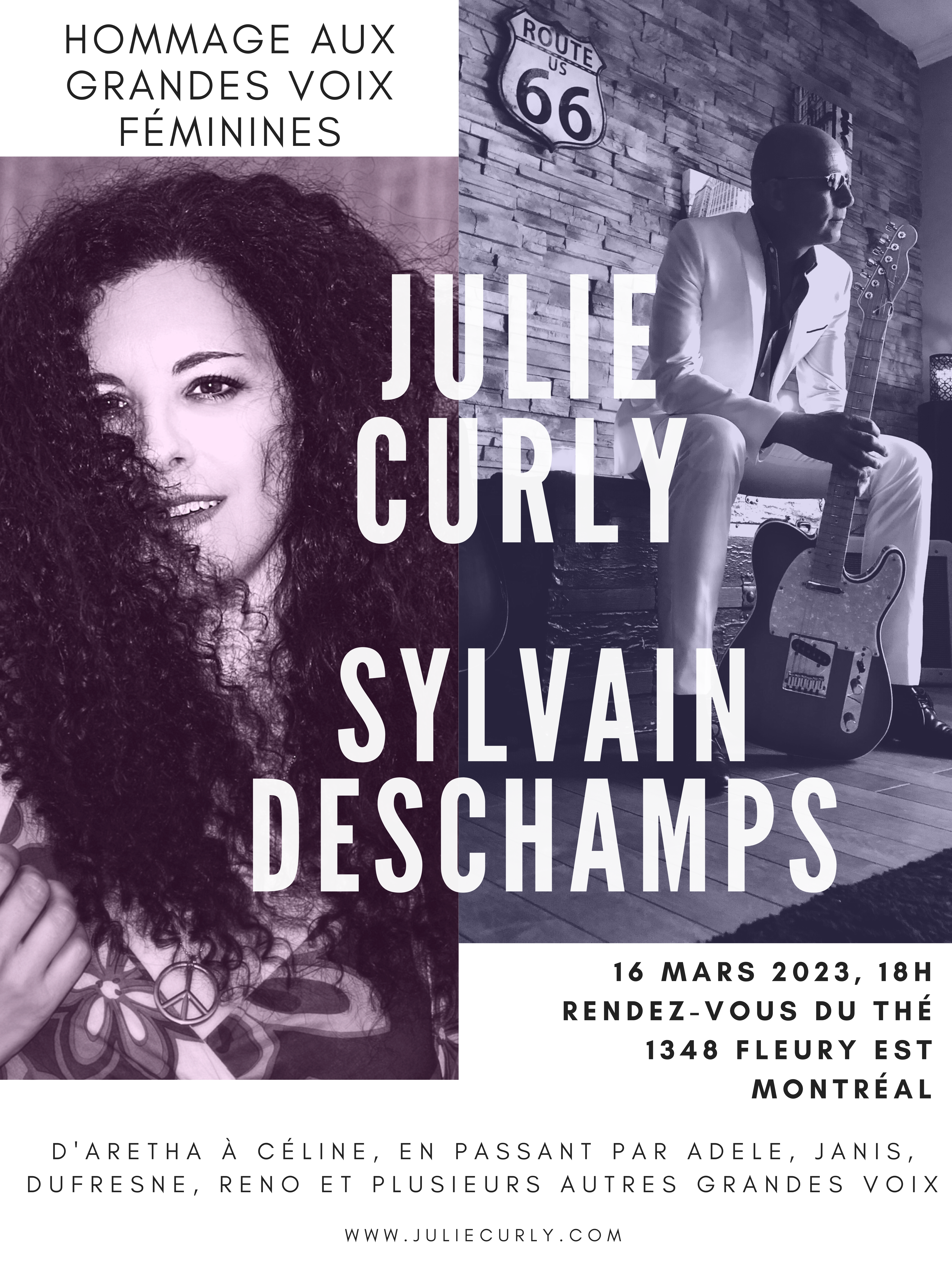 Bon début d'année 2023 ! Happy New Year !
Janvier 2023. En ce début d'année, je vous souhaite la santé, plein de petits et grands bonheurs et, bien sûr, de la bonne musique! Afin de vous remercier de nous suivre dans cette aventure musicale, vous trouverez de nouveaux produits ajoutés à la Boutique Julie Curly! Bon magasinage et bonne année!
January 2023. For the new year, I wish you good health, lots of little and big moments of love and, of course, good music! To thank you for following us on this musical journey, you will find new merch added to the Julie Curly Boutique! Happy shopping and happy New Year!

Joyeux Noël ! Merry Christmas !
En vous souhaitant de belles fêtes à vous ainsi qu'à vos proches! Je profite de l'occasion pour vous remercier de suivre l'aventure Julie Curly, de près où de loin, d'écouter notre musique, de venir nous voir en spectacles; sans vos oreilles pour l'écouter, la musique perds tout son sens, donc merci de donner un sens à notre musique! En guise de cadeau, en cette période des fêtes, voici un petit medley de 3 chansons que j'aime beaucoup et que je n'ai jamais eu l'occasion de faire en spectacle... Qui sait, pourquoi pas un album de Noël dans les années à venir? Quelles sont vos chansons de Noël préférées?
Wishing you happy holidays to you and your loved ones! I take this opportunity to thank you for following the Julie Curly adventure, from near and far, for listening to our music, for coming to see us in shows; without your ears to listen to it, the music loses all its meaning, so thank you for giving meaning to our music! As a gift, during this holiday season, here is a little medley of 3 songs that I really like and that I have never had the opportunity to perform... Who knows, why not a Christmas album? in the years to come? What are your favorite Christmas songs?
Un été en musique! / A musical summer!
Juin 2022. Cet été, Sylvain et moi avons plusieurs dates de spectacles pour un été tout en musique! Le 16 juin, nous seront de retour au Rendez-vous du Thé à Montréal pour notre souper-spectacle Les grandes voix féminines. Envie de sortir de la métropole ? Venez nous voir à la Brasserie St-Maurice à L'Assomption les 3 juin, 15 juillet ou encore le 5 août! Bref, aucune raison qu'on se voit pas cet été! 
June 2022. This summer, Sylvain and I have several show dates for a summer full of music! On June 16, we will be back at Le Rendez-vous du Thé in Montreal for our souper-spectacle called Les grandes voix féminines. Want to get out of Montreal? Come see us at Brasserie St-Maurice in L'Assomption on June 3, July 15 or August 5! No reason not to see each other this summer!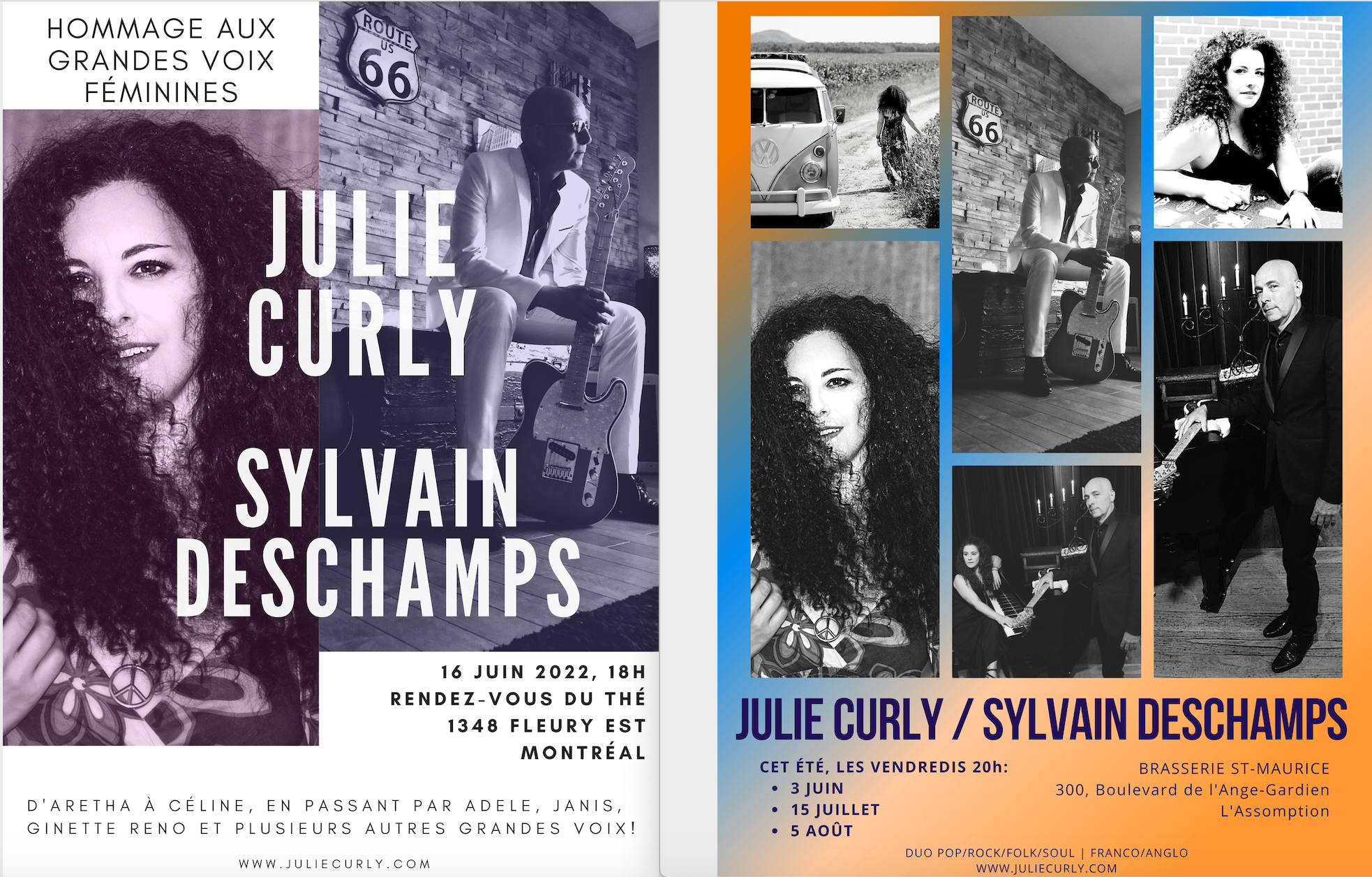 "Avril ne te découvre pas d'un fil..." mais viens nous voir en show!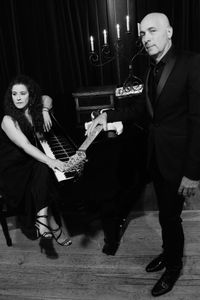 Avril. Nous aurons le plaisir d'être de retour sur la scène des Rendez-vous du thé les jeudi 14 avril ainsi que le 16 juin afin de performer notre spectacle "Hommage aux grande voix féminines" dans le cadre d'un souper-spectacle. Spectacle gratuite, mais places limitées. Il suffit d'appeler Le Rendez-vous du thé pour réserver: (514) 384-5695
April. We will have the pleasure of being back at Le Rendez-vous du thé stage on Thursday, April 14 and June 16 to perform our show "Tribute to great female voices" as part of a souper-spectacle. Free show, but limited places. Just call Le Rendez-vous du thé to reserve: (514) 384-5695